Special Events & Programs
Registration is now closed.
Equal Are We is a full-day, dynamic conference with workshops, speakers and some fun and engaging surprises aimed to make you question: what can I do to make the spaces where I live, work, learn and beyond, more inclusive? How can we move from a place of divided views to a place of more acceptance and understanding?
Step up. Stand together.
This conference is for students 16+ and adults who share our vision for a community where everyone's voice is equal. We believe every member of the community is an expert in their own space and we want to learn about your vision and ideas. We want you to connect with others and to leave feeling empowered to make your voice heard on what matters to you.
The day will be fast-moving, cover a range of topics, and include a wide breadth of diverse voices. 
When: Tuesday October 22, 2019 8:30 a.m. – 3:30 p.m.
Where: Conestoga College, Cambridge Campus, 850 Fountain st S
Cost: Adult tickets are $25; Students attend for FREE & receive volunteer hours for the day. 
Lunch/refreshments will be provided.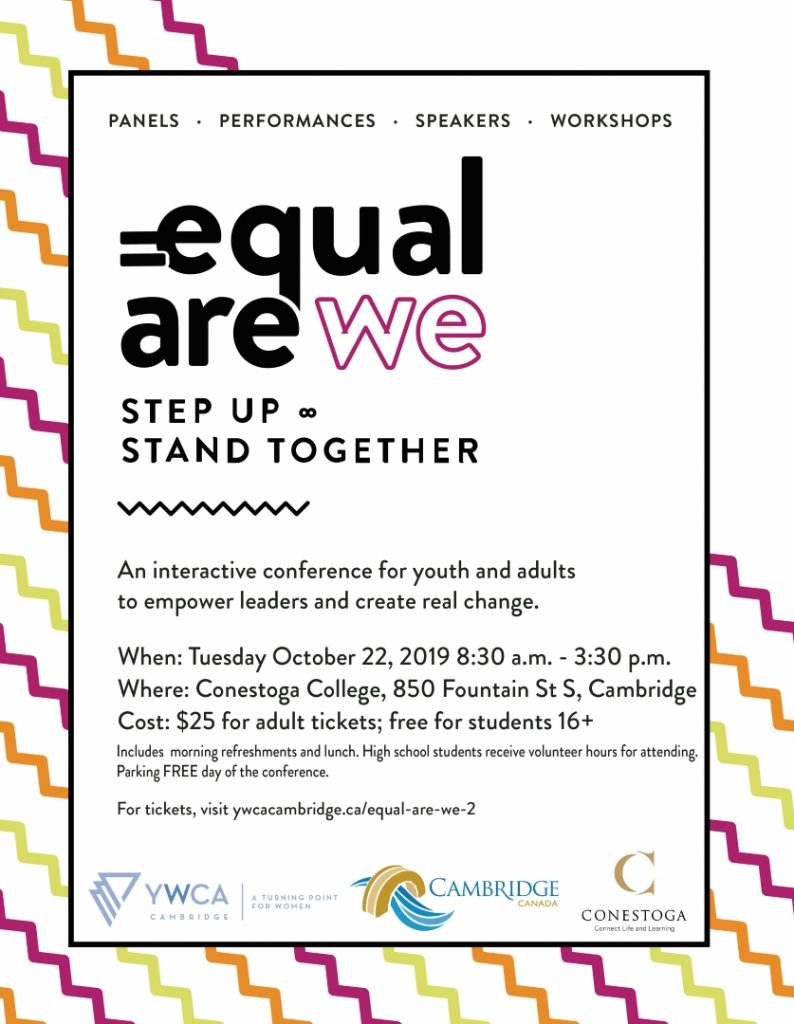 Free Student Registration
Please use this form below to register if you are currently attending a post-secondary institution.
If you would like to register a group of high school students, please download and fill out this form and send it to Kim Decker at k.decker@ywcacambridge.ca
8:30 a.m. – 9:30 a.m. Registration
9:05 a.m. – 9:15 a.m. Opening Remarks: Mayor Kathryn McGarry and EAW Chair Megan Lambe
9:15 a.m. – 10:15 a.m. Keynote: Dr. Eden Hennessey, Research & Programs Director, Laurier Centre for          Women in Science
10:20 a.m. – 11:20 a.m.  Workshop 1: Continuum of Harm 
11:25 a.m. – 12:25 p.m.  Workshop 2: Allyship
12:30 p.m. – 1:30 p.m. Lunch and Interactive Theatre Performance: Great Sexpectations by SHORE Centre
1:35 p.m. – 2:35 p.m. Inclusion Panel 
Moderator: Isabel Perez-Doherty (Director of Philanthropy, YWCA Canada) Participants: Vanessa Lopak (Supervisor of Accessibility & Diversity Services, City of Cambridge), Washington Silk (OK2BEME Coordinator, Therapeutic Counsellor & Public Educator), Fareeda Adam (Staff Lawyer, Black Legal Action Centre), Myeegun Henry (Manager,            Aboriginal Student Services, Conestoga College)
2:35 p.m.- 3:20 p.m. Janice Jo Lee, Folk/spoken word artist and activist closes out the day.
Upcoming fundraising events
Race to Erase is an annual fundraising competition where teams compete in fun-filled challenges throughout our community, all in support of multiple local charities.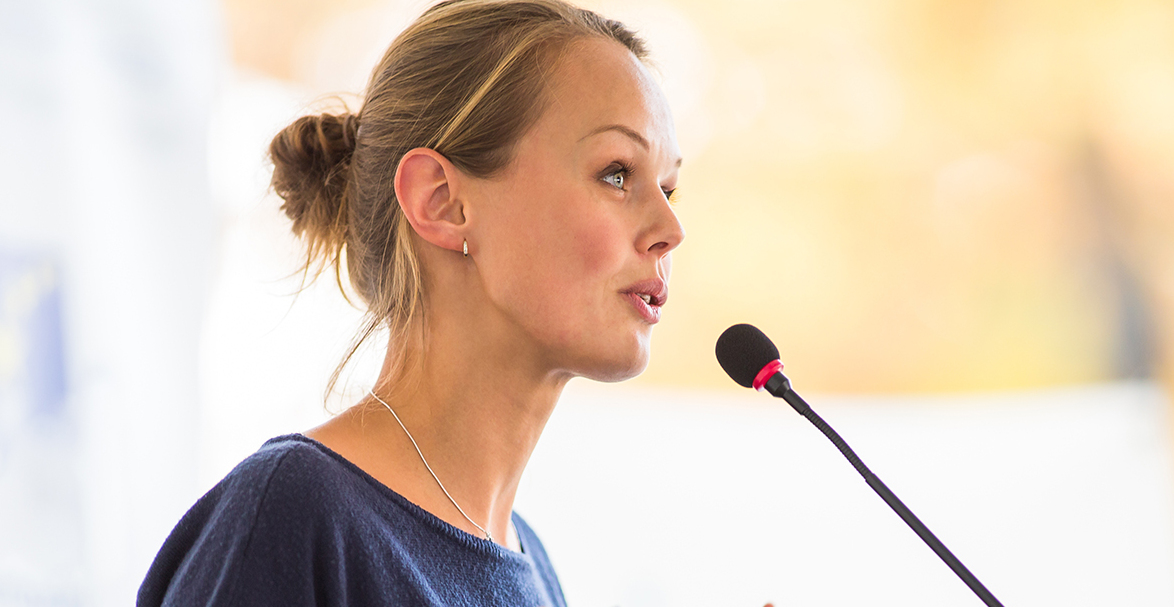 She Talks brings you the stories of remarkable women and their personal journeys in this intimate night of authentic conversation, laughter and inspiration.
Walk a Mile in Her Shoes® is a playful opportunity to raise awareness in our community about the serious nature of inequality and gender-based violence. We walk in solidarity for equality, safety and tolerance in our community.
YWCA Cambridge's Women of Distinction Awards is a celebration of the incredible women working tirelessly to improve lives, break down barriers and inspire future generations, right here at home.
Have a Question Or Need Assistance?
If you have a question about YWCA Cambridge, our programs or events, or simply want to get involved, please give us a call or send us an email.
Address: 102-55 Dickson Street, Cambridge, Ontario, N1R 7A5
Office Hours:
Monday to Friday 10:00 a.m. – 4:00 p.m.
Saturdays, Sundays & holidays: closed
Tel: (519) 267-6444 
Main Email: info@ywcacambridge.ca
W Programming Email: thew@ywcacambridge.ca
Shades's Mills Camp Email: camp@ywcacambridge.ca
WIGG Email: wigg@ywcacambridge.ca