You would be hard-pressed to find someone in the Ontario beer industry who doesn't know and love Ren Navarro. For over six years she has been regarded as one of the most respected members in the industry, spending much of her 6+ years in the field as a sales representative for renowned and award-winning breweries like Redline Brewhouse, Woodhouse Brewing Co., Great Lakes Brewery, Descendants Beer & Beverage Co., and Kensington Brewing Co.
Alongside her fervent love of the craft beer world is her determination to bring it to a more diverse audience. An outspoken critic of the old notion that beer is a drink primarily for "white dudes", Navarro is on the frontlines to initiate change both in and out of the industry.
What's a lesson you've learned on your journey that you'd want others to share with others?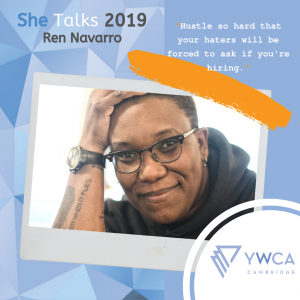 A tough skin and a strong support system are the most important things you can have in your life.
What are your words to live by?
The basic kindergarten rule: Treat others the way you'd want to be treated.
What does the world need more of? Less of?
More kindness and understanding. Less hatred.

What's the best piece of advice you've ever received?

Hustle so hard that your haters will be forced to ask you if you're hiring.
Who is someone you would say has had a significant impact on you? Why?
The three most important women in my life: My Gram (RIP), my mother and my wife. Those ladies believed in me when I didn't believe in myself. They also taught me that it's okay to fail, just dust yourself up and try it again. I wouldn't be doing what I'm doing it if it wasn't for them.