Janice Jo Lee (she/her), aka Sing Hey, is a Korean-Canadian artist from Kitchener, on Haldimand Tract treaty territory. She is a nationally-touring folk singer-songwriter, multi-instrumentalist, spoken word poet, playwright-actor, and educator. She is passionate about building flourishing communities based in justice and joy through art. On stage, Janice is known for being disarmingly hilarious, off-the-cuff and fearlessly honest. She is a hard femme, queer, radical, comedian, truth-teller and trickster. With her looper, Korean drum, trumpet and guitar she sings anthems for the people and ancestor melodies leaving audiences empowered and aglow.
We are so excited to have Janice's voice and talents on October 22 at Equal Are We. Read our short interview with her.
If you had to explain what you do to a five-year-old, what would you say? I tell stories and sing songs to help build friendships between people who are different. I try to bring ourselves back to fun, joy, and gratitude, especially when we get caught up in the business of life.
This work can oftentimes be discouraging. How do you stay hopeful? Always work within a community context, surrounding yourself with people who have similar cares and passions. Listening and learning from people younger and older than me. Having mentors is key. Intergenerational friendship is necessary to not feel helpless and to not duplicate work that has already been done.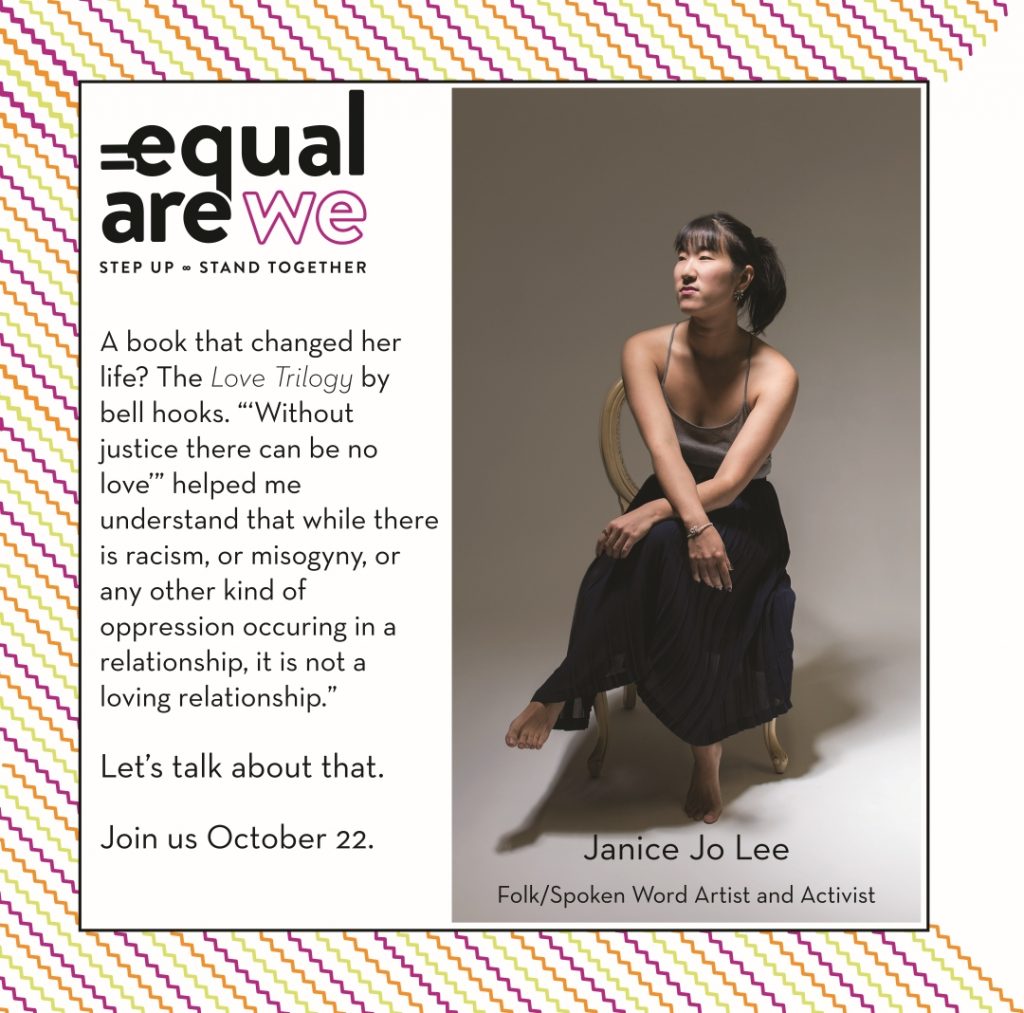 Tell us about what/who inspired you to do the work you do In grade 12, my politics teacher Mr Hallarn taught me about the world. That was when I first learned that we live within capitalism. When I first learned about the f word (feminism). I learned about global and race inequity. I became a socially aware person. Mr Hallarn gave me the information, I think my drive to contribute to the world though, comes from my ancestors.
Can you recommend a book that changed the way you think? How? The Love Trilogy books by bell hooks. "Without justice there can be no love" helped me understand that while there is racism, or mysogyny, or any other kind of oppression occurring in a relationship, it is not a loving relationship. It made me re-evaluate my friendships and have to confront particularly the racism I was enduring within my friendships with white people. I was pushed to work towards raising my standards of dignified treatment of myself.
Hear more from Janice and see her art in action. Join us October 22 for Equal Are We, a conference jointly hosted by YWCA Cambridge, the City of Cambridge and Conestoga College. More info here.