Dana Bookman is the founder and CEO of Toronto Girls Baseball and the Canadian Women's Baseball Association. She started Toronto Girls Baseball for her six year old daughter, who loves the game, but wanted to quit after a season of being the only female player in a league made up of 400 boys. Today, Toronto Girls Baseball is the only all girls baseball league in Canada for girls ages 4-16. It grew 840% in the first year alone, and has served almost 550 girls so far. The league has expanded to three locations in the GTA and also to Nova Scotia and Manitoba.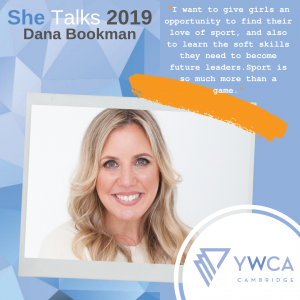 What's a lesson you've learned on your journey that you'd want others to share with others?
I truly believe that you can do anything you put your mind to.
What are your words to live by?
If you don't do it, you'll regret it. Someone said it to me when I was 16 and I always take a chance to try something new.
What does the world need more of? Less of?
I think the world needs a reminder more often that 99% of people are good. We need less bad news and more heroes.
What's the best piece of advice you've ever received?
Someone once said to me "people aren't thinking of you." It means people are wrapped up in their own lives, problems, work, family life. It means that I should stop over-analyzing. It's not always about me. So I should be kind, always.
Who is someone you would say has had a significant impact on you? Why?
More than any one particular person, I take something away from each person in my life. Listening to their thoughts and advice opens my mind to new ideas.
Is there anything else you'd like to share?
Through sport and Canadian Girls Baseball, I want to give girls an opportunity to find their love of sport, and also to learn the soft skills they need to become future leaders. Sport is so much more than a game.