Violence has a far-reaching, long lasting impact for all who are touched by it. Yet we rarely talk about it. In her remarkable documentary, A Better Man, Attiya Khan bravely breaks that silence. Her film explores the abusive two-year relationship she endured with a man named Steve more than 20 years ago, when they were both teenagers.
In making A Better Man, Attiya took a huge step in overcoming fear—fear for herself, that her depression, anxiety and insomnia would resurface, and for Steve, over how viewers would react to him. The risk was well worthwhile; creating the film offered a gateway to true healing for both of them, and a valuable tool for many, many others.
What's a lesson you've learned on your journey that you'd want to share with others?
I've learned that it's important to ask people who've experienced domestic violence what justice looks like for them and what they need to be able to heal. We should not assume what someone else needs or wants.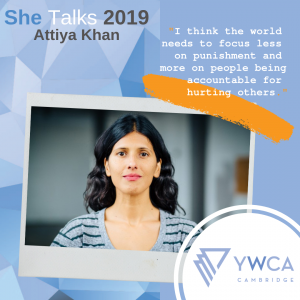 What are your words to live by?
Be aware of people who are quieter and who don't take up space and ask them what they think.
What does the world need more of? Less of?
I think the world needs to focus less on punishment and more on people being accountable for hurting others.
What's the best piece of advice you've ever received?
Don't read the comments.
Who is someone you would say has had a significant impact on you? Why?
My good friend Joss has been a part of my life for over 20 years. I worked with her for six years when I was in my twenties. She was my boss. She was the first person in my life who told me that I had the potential, through my work, to have a significant impact on others. She felt that I needed to move on from working with her and try something new and more challenging. Joss helped to give me the confidence I needed to work in the field of domestic violence prevention.
The next She Talks is Monday April 29. Get your tickets here!