The 10th Annual Walk a Mile in Her Shoes walk to end gender-based violence was an enormous success, even getting some media pick-up!
More than 50 red-shoed walkers traipsed through downtown Galt on Saturday, and as YWCA Cambridge Board President Christine Vigna said, by some 10th Anniversary miracle, the weather held up, despite the dismal weather forecast.
Thanks to the fundraising efforts of the Walk a Mile participants, we raised a whopping $22, 460.45, far surpassing any expectations we at YWCA Cambridge had. Thank you to everyone for reaching out to their networks, hosting bake sales, posting videos and pictures of them in their shoes, and for all the other ways people creatively raised funds for Walk a Mile.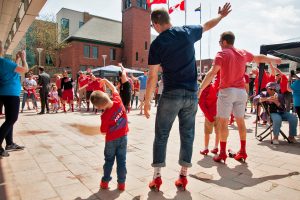 Big congratulations and thank you to our top funders!
Top Funding Team: Laneway Crew: $5,065
Second Place: McIntyre Family: $2,576
Top Fundraiser on a Team: Mike Farrell, Laneway Crew: $1,275
Top Solo Fundraiser: Nicholas Delegianis: $620
This walk, like so many fundraising events, takes a village to pull off, and did we ever have a village. Thank you to Meridian for their commitment to this campaign through being our title sponsor. Thank you also to Gator's Tail for feeding us all on the day of the walk and hosting our launch party.
Thank you also to Jackass Brewery for creating the Walk a Mile IPA and donating proceeds from its sale totaling $1,000. Thank you Duke and Duchess for hosting a fundraising celebrity server night where we collected more than $600, and the Cambridge Firefighters of PFFA Local 499 for being our red-heeled celebrity servers and donating $200. Thank you Darryl Law of Dave Rocks 107.5 for being such a strong supporter, walking every year, emceeing our event, bringing the tunes on Saturday and for having us on air to talk about the walk.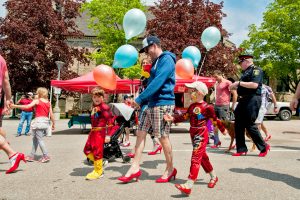 Thank you to Kevin Sinclair of Intrigue Media for always going far above and beyond as a volunteer, creating promotional videos (including this great Thank You video!), ads, and doing so much social media and public outreach. Thank you also to Tuesday and Sam of Simply Foiled Glass Art for designing and creating the gorgeous stained glass piece that auctioned for $160, all the money from which came to Walk a Mile, and for creating the beautiful Walk a Mile piece we now have in our store window. Thank you to Modo Yoga for donating proceeds from their Karma Classes throughout the month of May. And to Shannon Butt of Modo Yoga and Shannon Lee Yoga for leading our pre-walk stretch.
Thank you also to the planning committee and each volunteer who gave so much of their time to make every moving piece of this whole campaign fit together. It took many phone calls, emails, printing, posing for photos, and a whole lot of begging.
Most of all, though, we couldn't fill the sidewalk without each of the walkers who signed up, collected pledges, and donned those red shoes. Thank you to each one of you for accepting that challenge. And thank you to the 8 walkers who have walked this mile with us for five years or more: Chris Vigna, Kevin Sinclair, Darryl Law, Dylan Decker, Joe Lethbridge, Bill Conway, Nicholas Delegianis and Neil Main.
As Darryl Law said, "I participate in Walk a Mile every year because I know it's one small thing I can do to encourage fellow men and boys to acknowledge the existence of gender-based violence and to take responsibility for the role each of us has in standing up against it."
This walk is about raising awareness of and ending gender-based violence. YWCA Cambridge's mandate is to give voice to women and girls in our community, and to support them holistically on their journeys. Thanks to all of you, 147 cis and trans women and girls and non-binary individuals will be supported for a whole year. We can continue our mandate of empowering women and girls and educating everyone about their roles in ending gender-based violence.
Now, we hope to see you all again next year, and bring your friends! Let's make it impossible to contain the group of walkers on the sidewalk when we walk May 23, 2020.