Modo Yoga Cambridge has been a long-time supporter of YWCA Cambridge and a number of other charities in the region: so we're pretty stoked to celebrate one of their three co-owners on the blog today, Christine Grant. Thanks for all you do Christine!
What have you been up to since your big win?
I've been having a blast building the Modo Yoga Cambridge community with my amazing business partners Emily & Wendy, as well as a group of strong mindful teachers I'm lucky to call friends. I've also been building on the personal side of life, adding an awesome little man Leo to our family! I continue to invest myself in the Cambridge community, connecting with various business owners to help grow our community and encourage life and vitality downtown. I also have big plans to make an impact with the younger generation in the near future, both through the school system, and by putting my pen to paper for a children's book in progress (it's out there now… I'm committed!)
Name the biggest overall lesson you've learned about leadership
Being a leader doesn't mean doing it alone. In business it's so easy to put your head down and pave a path, but what's more important is to look up, think big picture, and surround yourself with amazing women who want to rally together to make change. The best women to build with are those who believe in strength in numbers, not using others as stepping stones to achieve their own success.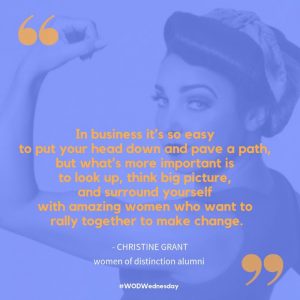 What's something I think is very important in our community?
Helping children recognize their role in society; to realize they are brilliant and beautiful creatures, and to truly believe that they can change the world one day. These are our future leaders who need to feel and understand the power they hold. If we want to shift the future of our communities, let's put a strong focus on children mental health and help build their self-confidence, along with teach coping strategies for anxiety. Let's be proactive with our littles, rather than reactive as issues arise. It's our job as adults to help children build their own toolboxes, and then the child's job to pick from that toolbox as needed when they grow.
What does the world need more of?
The world needs more mindful leaders. Those who lead with heart and mind, intertwined together.
In moments of self-doubt, how do you build yourself back up again?
I get quiet, and remove myself from the chaos. I get real, practice self-affirmations, land on my mat and reconnect with my breath with my yoga practice. That normally snaps me out of it, and brings me back to life!
Isn't she awesome?! And HEY guess what? Another third of the dymanic Modo Yoga Cambridge entrepreneurial trio is being celebrated at this year's event: so come on out and hear more about the impact these gals are having and get inspired by their commitment to community. It's just one week away so purchase your tickets today! And see you all on March 27!