Events of 2020 threw some curve balls – to put it lightly. We weren't able to host our big Women of Distinction awards night at the Galt Country Club, and, frankly, we still don't know when we'll be able to host a large gathering again. 
But we didn't want to put off celebrating the incredible recipients of the 2020 Women of Distinction awards, so we organized intimate porch drop offs – pics from which you'll see below. 
Please join us in congratulating each of these bold women. They are all role models in their own right, and we are proud to honour them in this way. 
Dianne Piluk is the 2020 recipient of the Women of Distinction award for Volunteerism.
Dianne is a respected public speaker who shares her own story as a survivor to advocate for changes needed in the legal system, such as the reporting structure to make it easier for sexual assault victims to come forward. As an active and passionate volunteer with the Sexual Assault Support Centre (SASC), she has helped raise funds to support programs, and awareness with leaders at a local and provincial level. As a family outreach worker with House of Friendship, she extends sincere compassion and commitment to help low income families navigate complex situations. Her commitment to her healing journey, and the tenacity she shows every day, helps debunk damaging myths about survivors. She has and surely will continue to inspire many of them now and for years to come.
She is the very definition of courage, strength and character, and couldn't be more deserving of this recognition!
Here's what Dianne had to say:
When I received my nomination for a Woman of Distinction Award I quietly cried. I spent so much of my life trying to stay invisible. A skill I thought I had perfected. What an honour it is to be nominated by a woman that I truly admire: [YWCA Cambridge Small Steps to Success coordinator] Sara Hohenadel. Thank you for seeing me and inspiring me.
I grew up in the 70s the middle child and only girl. Much of my life was fighting for gender equality. As a middle child, my theme statement was "it's not fair." That statement was often met with the response that LIFE isn't fair. I could not accept that.
The time in which I was born, my gender, my desire for equity and the trauma I experienced as a child shaped me into the woman I am today. I would describe myself as quiet until I feel the need to stand up to social injustice, then I fearfully stand in front of an audience and tremble while sharing my personal story. I want those that are listening to hear how I was impacted, and I want change. I want those with money to fund change and those with power to elicit change. Once done speaking, I wipe my tears and resume invisibility and wait quietly for my inner fire to emerge and declare that this isn't fair.
I credit my strength to the feminist trailblazers, the loud and the quiet. I would not be who I am today without strong women clearing the path for me, making my fight for change easier than it had been in previous generations.
Jenni Bauer is the recipient of the 2020 Women of Distinction award in Wellness, Recreation & Sport.
Her contributions to women's hockey are exemplary. Jenni is an equal player to her male colleagues in this heavily gendered sport. She takes to heart the idea that "you can't be what you can't see" and uses her experiences to connect with young players and provide advancement and mentorship opportunities. Jenni volunteers with the Cambridge Rivulettes Women's Hockey Program and the Cambridge Roadrunners Girls Hockey Association. She also takes the lead planning events that help to engage, empower, and inspire women and girls. In addition, Jenni works at a more strategic level to move the sport forward through her non-coaching roles. Covering in-game colour commentary on Rogers TV brings awareness to junior women's hockey in Canada. As a Masters Student, she used her thesis research to cover gender barriers in hockey, as well as how young women can continue their involvement after their playing days are over in both coaching and league administration.
Outside of hockey, Jenni's volunteer and employment efforts focus on capacity building or leadership to continue to build up the sport in her community. Her unwavering commitment to date is as good as a guarantee that we can continue expecting more great things from her.
Thank you for your tenacity and mentorship, Jenni, and congratulations!
Here's what Jenni had to say:
I'd like to thank Sarah Daly for her thoughtfulness in nominating me and connecting with those who wrote letters of support for my nomination for the YWCA Cambridge Woman of Distinction award in Wellness, Recreation, and Sport.
Sports have always held a place near to my heart and allowed me to take many lessons with me along my journey. Being part of a team brings many opportunities to build relationships, grow as an individual, and explore new skills that will follow us through life. Sports and recreation is a vehicle toward healthier communities, a place where everyone can belong. I'm grateful to be part of the Cambridge community, one that is so committed to looking forward, looking ahead, and continuing to create a community we can all be proud of and prosper in.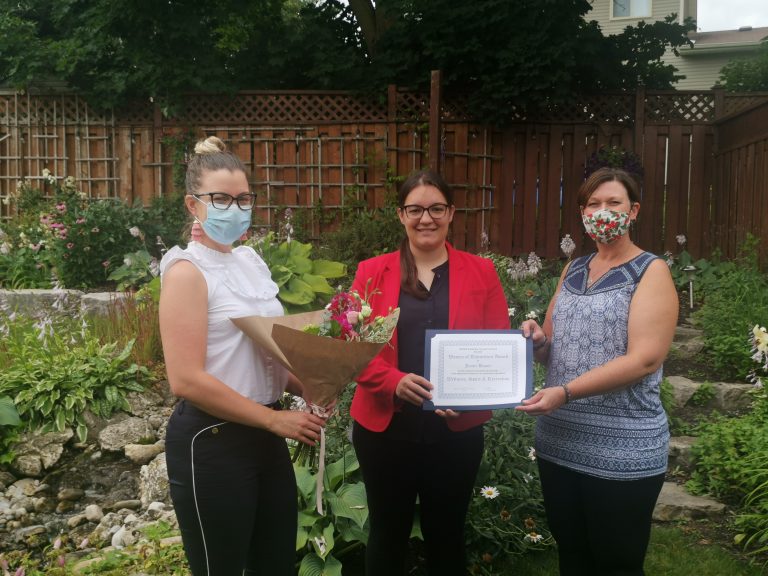 Sarah Kokoski is the 2020 Women of Distinction award recipient for Education & Mentorship.
As a passionate English, Drama, and Indigenous Studies teacher at Galt Collegiate, Sarah is a dedicated advocate and champion for the students she teaches. She continually displays courage to advocate for the rights and fair treatment of disenfranchised people and communities. In moments where students were in crisis, they sought Sarah as a trusting adult who showed them compassion and care when others in their lives would not. She has fed and clothed students whose families were not able to. Most specifically, Sarah is a vocal supporter of the LGBTQ2S+ community and has supported many students on their journey to own who they are.
It is no wonder many of her students maintain contact with her, and she continues to support them as a positive mentor and supporter. Her unwavering commitment to not only educating but to empowering her students and tending to their well-being is what sets her apart as an incredible teacher and woman.
Thank you for being such an inspiring role model, Sarah!
Here's what Sarah had to say:
I'd like to thank the Cambridge YWCA for this honour and for all the important work they do in the community.
When I first started teaching, there were many moments when I didn't know what I was doing. However, I have had strong women as role models and mentors. These women shaped who I am as an educator. They taught me invaluable lessons in teaching, communicating, building relationships, unlearning, allyship, and mentorship.
During the pandemic, it's clear that the most important part of teaching is building relationships. It is a privilege to have lasting and meaningful relationships with my students – to hear their stories, pain, successes. To have them come back to visit, or even become my student teachers. These relationships are not something that I take for granted. It is my life's work. It is my profound pleasure and honour to have a place in my students' lives. Thank you.
Siobhan Bonisteel is the recipient of the 2020 Women of Distinction award for Social Action & Advocacy.
Siobhan is a local leader on a mission towards eco-social progress. From smaller feats like starting a website for a sexual assault support initiative, to working with dozens of schools and hundreds of kids to learn about food banks and the importance of growing food, she engages and excites people to take action and make impact. She founded Preston Community Gardens, and has formed partnerships with Cambridge Food Bank, Seeds of Diversity Canada, Preston Idea Exchange to name a few, and perhaps most notably a partnership with rare Charitable Research Reserve to create an Indigenous garden for local-based healing and practice. Just one of the major initiatives Siobhan created at the Food Bank is the Food Savers Club, which, after just one year diverted over 11,000 pounds of fresh food to be used to create fresh frozen meals for the community.
The pandemic has had her and the team at the Cambridge Self-Help Food Bank working in overdrive the last 19 months in order to support the increased need in the community. She is tireless in her commitment to social wellbeing and climate justice.
Siobhan has been accepted into a phD program at University of Toronto where she will undoubtedly continue doing incredible things in the name of climate justice and food security for all.
Congratulations, Siobhan. You are an absolutely incredible human and Cambridge is much the richer having you a part of it.
Nicole Schiener is the recipient of the 2020 Women of Distinction award for Non-Profit or Public Service award.
Nicole's nominator told us that, "she has truly changed the world with her knowledge, compassion, outstanding skill, and incredible talent as a psychotherapist."
As a member of the Sexual Assault Response Team of Waterloo Region, a member of Health Connect Counselling Collaborative and a promoter of gender equity and safety through her work with the PAR group, Nicole stands out as an advocate and mentor to those around her.
Nicole also works to help new moms and their partners transition into parenthood, and spends time hosting workshops for these new families. In addition to this incredible work, Nicole writes articles for Holistic Parents, as well as writes her own poetry. It is here that she shows her vulnerability and continues to inspire her readers to find their voice and advocate for themselves.
If we all were like Nicole and were the change we wanted to see in the world, imagine what a world it could be!
Here's what Nicole had to say:
Thank you Tania Heinemann for nominating me and Sara Casselman and Heather Faulkner for your beautiful letters of support. Congratulations to all the incredible Women of Distinction past and present.
Working for a non-profit organization for the past 20 years I've seen the impacts of abuse, mental health struggles, grief and loss and the many systemic barriers people face. But I've also witnessed incredible resilience and what is possible when we work together.
In addition to individual and group psychotherapy, writing and volunteering have allowed me to use my privilege and wisdom to raise awareness and advocate for social change.
Never forget:
You are not alone.
You are not defined by what happened to you.
Your voice matters.
You do not have to be perfect.
You just have to show up and follow your heart.
Together we can make a difference.
For Nicole's published writing: www.https://linktr.ee/mindfulmama_nsm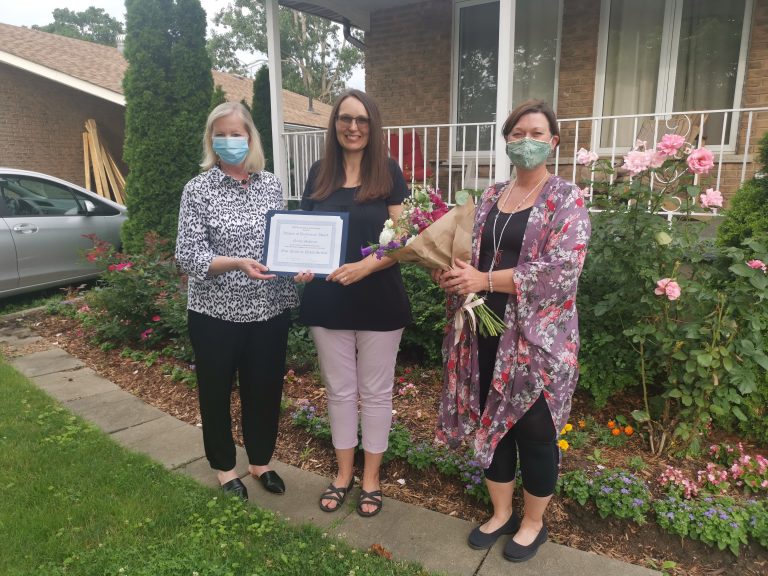 Laura Kaster is the 2020 recipient of the Women of Distinction award for Business & Entrepreneurship.
Laura truly built herself from the ground up: After high school, she trained as a Medical Aesthetician. By 23, she had her own studio with a hair salon here in Galt, and was also a single mother. She was determined to have the flexibility of being self-employed so she could continue to raise her then two-year-old son. Over the years, Laura decided she wanted to be able to offer different types of care and she put herself through an accelerated massage therapy degree program. This new schooling paired with her network of OBGYN'S and Midwives allowed Laura to offer care for many pregnant women, investing in tables with cut-outs for breasts and bellies, allowing these women to safely and comfortably lie face down until the end of pregnancy. Laura is the proud, successful owner of Pür Balance in downtown Galt. Her nurturing demeanor and determination to provide quality care has helped her make Pur Balance the success it remains today.
Here's what Laura had to say:
It is such an honour to receive this award and never have I been so honoured to be called an entrepreneur as I am today. This past year has truly challenged all entrepreneurs to reflect, and for some, re-evaluate their commitment to what they do and I am proud to say that there is no other path I'd rather be on! I am supported by an incredible team of women who make going to work an absolute pleasure and a community here in Cambridge that has given me such incredible support over the past 14 years!
Congratulations, Laura! Cambridge is so fortunate to have a trailblazing woman like you!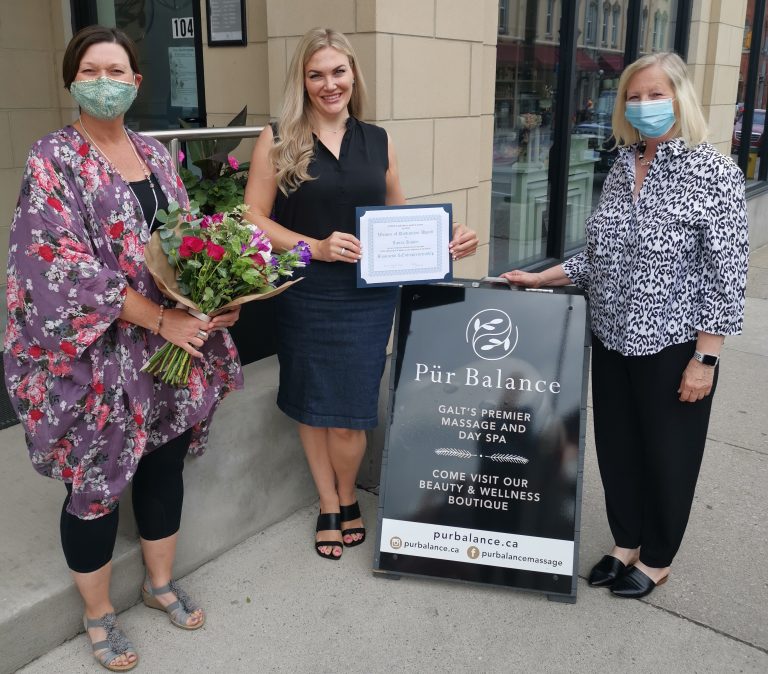 April Bulmer is the 2020 recipient of the Women of Distinction award in Arts & Culture.
She is a published writer, with over ten books of poetry picked up by reputable Canadian publishers and is currently finishing a manuscript. When April isn't writing, she's providing peer mentorship for the Cambridge Writers Collective, or acting as a judge in various competitions for groups such as the Ontario Poets Society. In addition, she is a poetry editor for an online Magazine called Devour: Art & Lit Canada. Thank you for your incredible work, April!
Here's what April had to say:
Thank you to the Cambridge YWCA for presenting me with a Women of Distinction Award in the Arts & Culture category. I am most grateful to receive an award from the women's Y, as the prime focus of my writing has been to honour women in the context of spirituality and various religious traditions, as well as to investigate ways to name the Divine Feminine and to connect to Her. I wish to thank Jan Woynarski for nominating me. Our paths crossed at Cambridge Women's Probus Riverside, which is a group of roughly 200 women who meet monthly to enjoy socializing and presentations by interesting speakers.
My mother supported me throughout my university days, during which I often studied what interested me and what, for the most part, was not practical or lucrative: creative writing, women and religion and theology. She encouraged me to follow my bliss. The Cambridge Writers Collective is also a great source of support and friendship. I would also like to thank the Ontario Arts Council for the many grants I have received through their Recommender program. My publishers over the years have also invested in me. My current publisher, Richard Grove at Hidden Brook Press, has published two of my books and has also offered me editorial positions through which I have grown.
Again, I am so very happy to be recognized by the YWCA, an organization that advocates for girls and women and develops programs in support of them. I am inspired by your good work to continue on my path and to write poems, stories and articles about women and nurturing feminine energies that have been suppressed in some traditions for centuries. I am blessed to have received your award.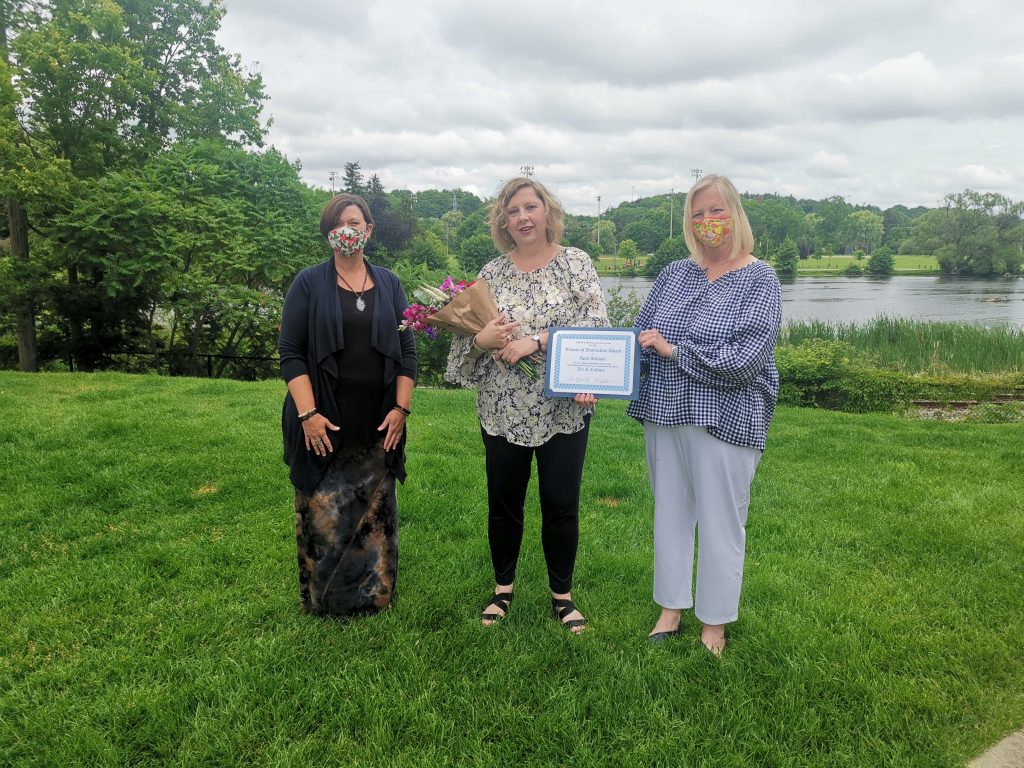 Congratulations to all of the 2020 recipients! We are proud to have you as members of our community and grateful for all the gifts you bring us through your work, advocacy and very existence!